A groundbreaking era in air travel commences as the digitally advanced airline "Riyadh Air" emerges onto the global stage. Celebrated amidst a national event at King Khaled International Airport on June 12th, the awe-inspiring Boeing 787-9 Dreamliner, adorned with a modern and captivating livery, ushers in a momentous occasion. The ceremony witnessed the presence of esteemed highnesses, dignitaries, and distinguished guests.
The aircraft gracefully soared at low altitude above the remarkable Riyadh skyline, providing residents with a tantalizing glimpse of their new airline. It traversed notable landmarks such as KAFD, Boulevard city, and iconic towers, instilling a sense of pride as the Kingdom witnesses the birth of its new national carrier. Soon, on June 19th, the aircraft will make its highly anticipated public debut at the 54th Paris Air Show, introducing Riyadh Air to a global audience.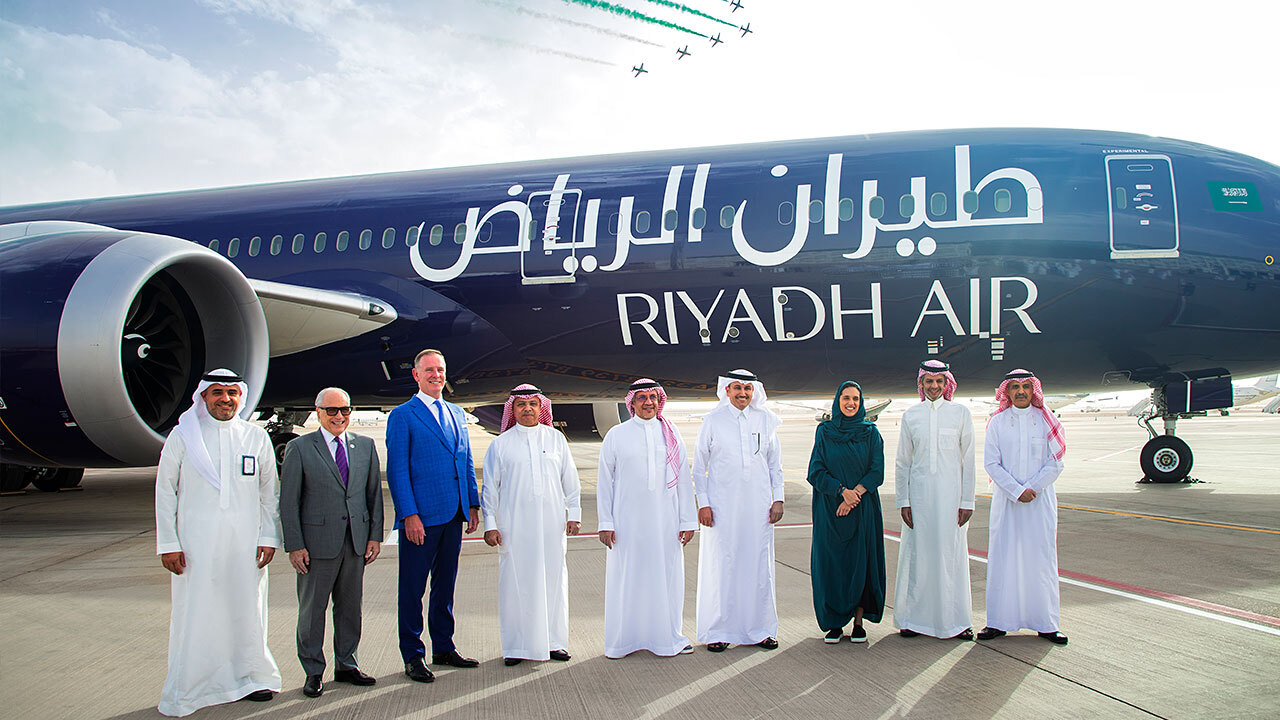 Riyadh Air aspires to revolutionize the realm of travel, offering an unparalleled guest experience and pioneering technological advancements that shape the future of the industry. Embodying the Kingdom of Saudi Arabia's modern and progressive spirit, Riyadh Air's brand identity emanates warmth and hospitality. Inspired by the vibrant lavender hues that blanket the desert in spring, the airline's striking livery serves as a testament to its commitment to pushing the boundaries of aviation. Infused with visual references to the Kingdom and the city, including the elegant curves of Arabic script, the livery perfectly complements the global campaign tagline, "The Future Takes Flight."
Positioned at the capital city, Riyadh Air will establish connections to over 100 destinations worldwide, benefiting from its strategic location that enables journeys within eight hours to more than 60% of the world's population. As a trailblazer in the travel sector, the airline aims to deliver innovative travel services while playing a pivotal role in realizing the Kingdom's National Transport and Logistics Strategy and National Tourism Strategy. Leveraging Saudi Arabia's geographically advantageous position, which connects Asia, Africa, and Europe, Riyadh Air aims to strengthen connectivity across continents.
During the 79th IATA Annual General Meeting, held earlier this month, Riyadh Air unveiled its airline designator code, "RX," signaling its commitment to offering seamless guest experiences through digital innovation and state-of-the-art technologies.
By welcoming travelers from around the world, including tourists, business visitors, and participants in major events hosted within the Kingdom, Riyadh Air envisions facilitating 100 million visits to Saudi Arabia by 2030. The establishment of Riyadh Air aligns with the Public Investment Fund's (PIF) strategy to unlock the potential of promising sectors, driving economic diversification by contributing USD 20 billion to non-oil GDP growth and creating over 200,000 direct and indirect job opportunities. Representing the latest investment by PIF in the sector, Riyadh Air joins forces with the recently announced King Salman International Airport masterplan, fortifying Saudi Arabia's aviation ecosystem, enhancing financial resilience, and boosting global competitiveness in line with Vision 2030.